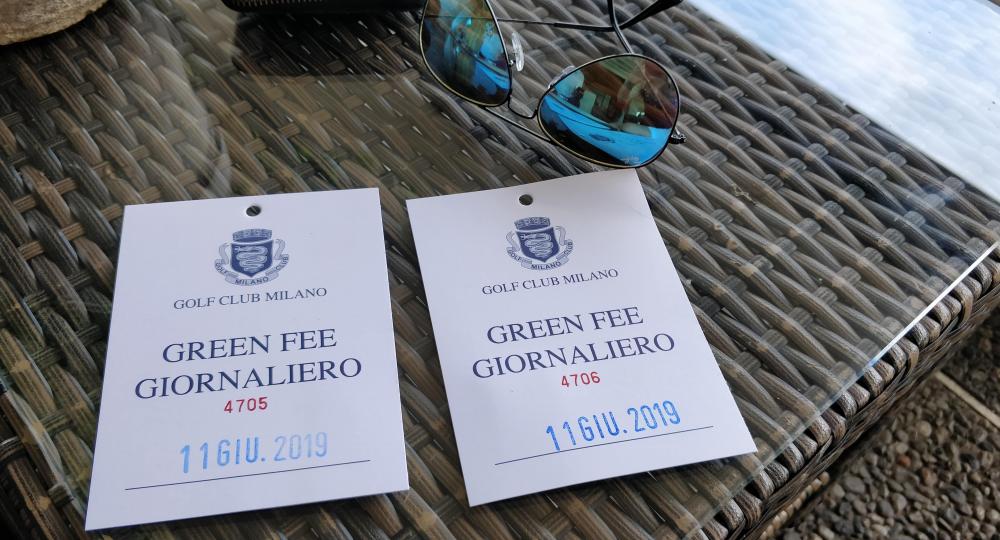 A Golf PRO by your side !!!!!
Do you want to play Golf? If you'd love to start you MUST call on a Golf PRO.
My first PRO was one of the greatest and his name is Harvey Penick, is passed away long time before I started to play golf... How did it possible? You should read his books: red, green and blue and you can understand why I think about myself as his student: love and passion are the ingredients of his teaching, doesn't matter if you were a Master's Champion or a HCP 36.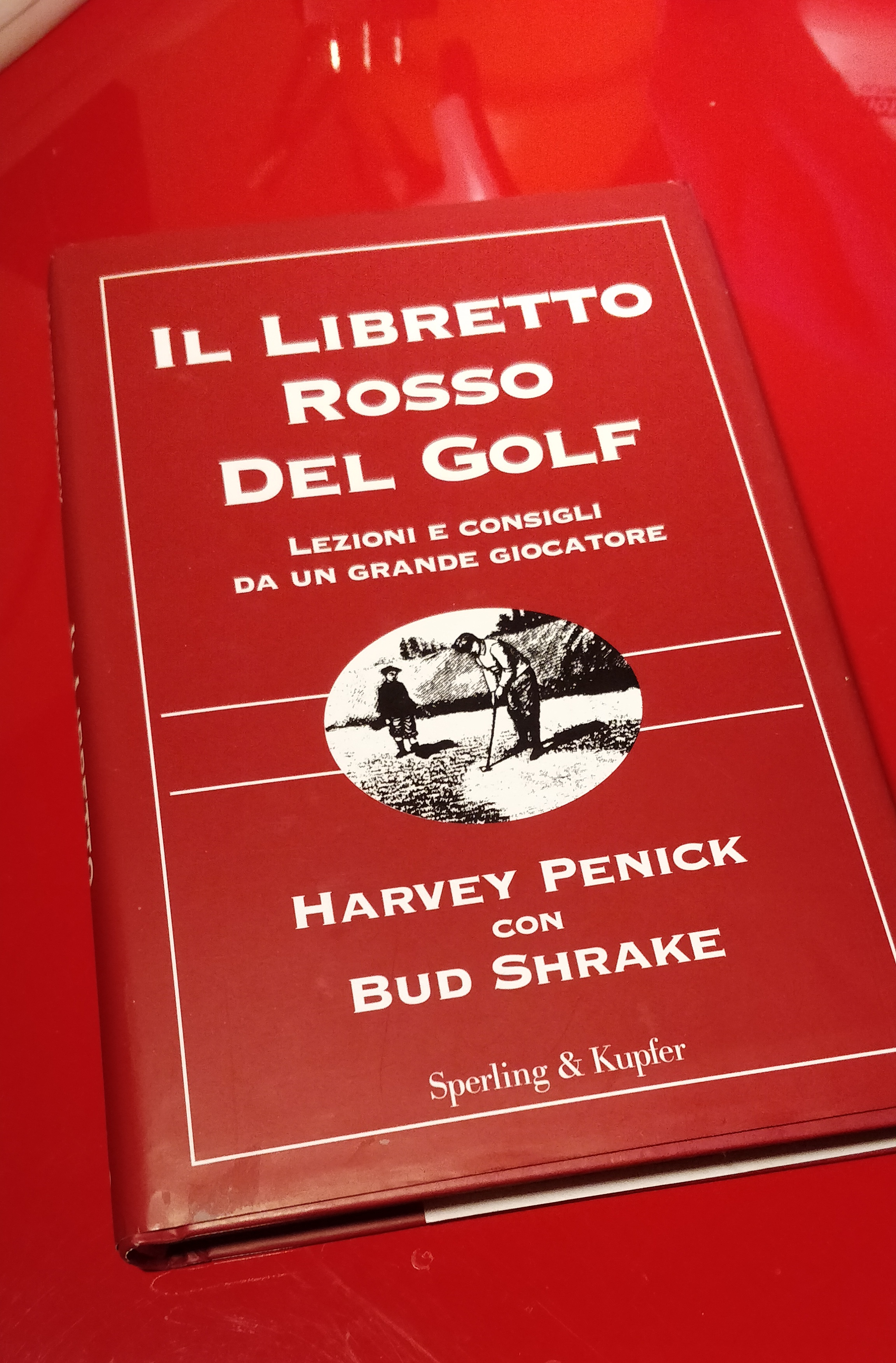 Legends aside, how to choose a Master is very important; probably the first one, or the first ones will arrive by chance but at the time you will get more experience you will choose the right one for you.

Remember that the PROs are people and even if you look at their games and seem NOT terrestrials (sure that you feel awe only to see their departures from the prohibitive "white tee markers" ), they are human beings, that's their job, they could do it good or bad and use different ways and tools. What I suggest is to follow your instinct: it's useless apply to the most famous PRO if at the end the results don't arrive, is useless keeping the same Master only because is nice.  
Find the one that thanks to technique and method is able to teach you the way to hit the ball, or, in my case how to hit it....!!!

Teaching Golf is a tough job and if a Master doesn't care at his student he won't be a good Golf PRO, same at the school.

However you think if you love playing golf a PRO by your side is necessary at ever level of HCP.
My straordinary PRO, last week spoiled me, he invited me to the legendary Golf Club Milano for a 18-holes together, here how it was.

12 O'clock: after a short briefing at my office we go towards Monza and along the way I realize I'm a little bit nervouse. He is a Golf PRO and I'm a 24 of HCP, it's like to go to San Siro with a football champion and you've just started to play at your backyard.

I start thinking that I don't touch my Golf club since 10 days, that I won't be able to hit a ball and he's going to live me at the bunker of the hole number 3 and just because he is a very sensitive person he will find the words to tell me that among many studends I'm the worst one and he will suggest me to practise another sport.

To make matters worst my mind goes to my Golf bug where my new and beautiful driver Callaway Rogue sits. Just bought from Golf US, the last one at the shop I found this a coincidence and I bought it from the expert hands of Andrea in only 17 seconds.

I resign myself to the idea that this experience will be another bad figure to tell my nephew, when I'll be old, I relax myself and I try to know better my new Golf PRO, met at a PRO Am in Tolcinasco, thanks to my dear friend Laura, his student.

I find out that he was born in Rosario, Argentina, he started to play Golf when he was six years old, he lived in the States and made tours for 2 years with golfers like Cabrera. 


Approching Golf Milano I tell him a great memory I have from this Golf Course:

Year 2017: I was a volonteer of the Italian Open as the Marshal, I was following the security team of  Francesco "Chicco" Molinari, last round and he was leading the game, that's why the audience was full of expectation and for me was a "tough job" to keep it calm. 

If you have never been at this kind of event I tell you that the volonteers are busy to keep the audience inside the place delimited by ropes and maintain the silence, about the rest I'm gonna tell you in the next blog. 

The memory...Chicco arrives at the 18th hole with only an advantage but the ball is at much to the right and outside the ropes, we ask the audience to move and we make free the area. 

The shot to reach the green fee is difficult, suspence, everybody is breathless and pushing to have a best view. I smile and invite the audience to clear the area for our Champion and while I crushed between the TV crew and the audience, Francesco hits the ball with a wonderful and winning shot.


The shot was so extraordinary that some weeks later the Golf Club Milano decide to put a plate in his honour .

you could check the video of this wonderful victory click here https://www.youtube.com/watch?v=jYvt35ahCYo

Dear Francesco, I need to say ... I don't want to claim any success but... I was at the Italian Open and you won, the year later I was assigned at the Olesen and you won. I was at Carnoustie in the 2018 when you won, again at "The Open" and in Paris for the Ryder Cup.... just to emphasise that every time I'm next to you at the last round you win ...... I bring luck. !!!!!
P.S. Sorry I couldn't find the ticket for  Royal Porthrush, check if you have 2 spare tickets for Augusta 2020 ... in April I will be free =)).

My Golf PRO brings me back to the present saying something about a special photo that we are going to take, no idea about what he would like to do, at the moment I have other problems.... I must learn how to hit as a One Digit before coming at the Tee one.

We arrive at the parking place and we decide to have lunch before playing and finally I think that's a great decision, about food there is no competion and I relax myself.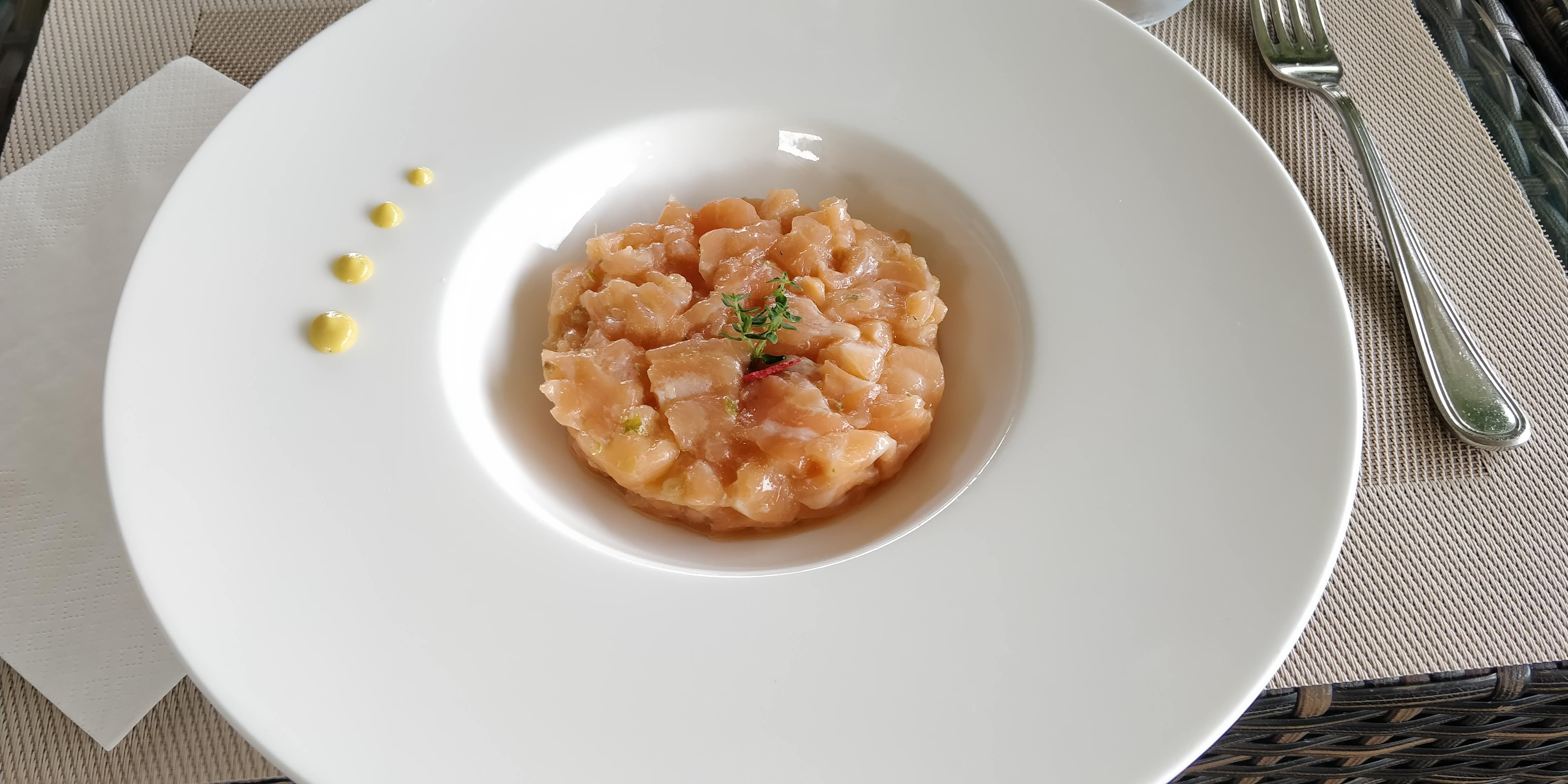 I look around. I'm at the Club House of Milano and I'm very happy, I'm always very happy when I'm at the Club House, but being here it's fantastic!
I have no time to enjoy the feeling when I realize that my PRO knows everybody and everybody greets him, so I feel again in panic thinking what a bad figure he will do it for me. It's not finished, just sit down I see passing by Matteo Manassero with his girlfriend and I scream:" It's Manassero" my PRO smiles saying that it's normal. Usually I'm not the kind of girl who pull her hair for sombody of famous and I saw Matteo during Italian Open, but feels strange to look at him in this contest..... feel excited. 

During the lunch we talk a lot about everything: Golf, life, work and how similar is the Golf game with the Life game.

We finish the lunch, we pick up the Golf cart and we go towards the practice course.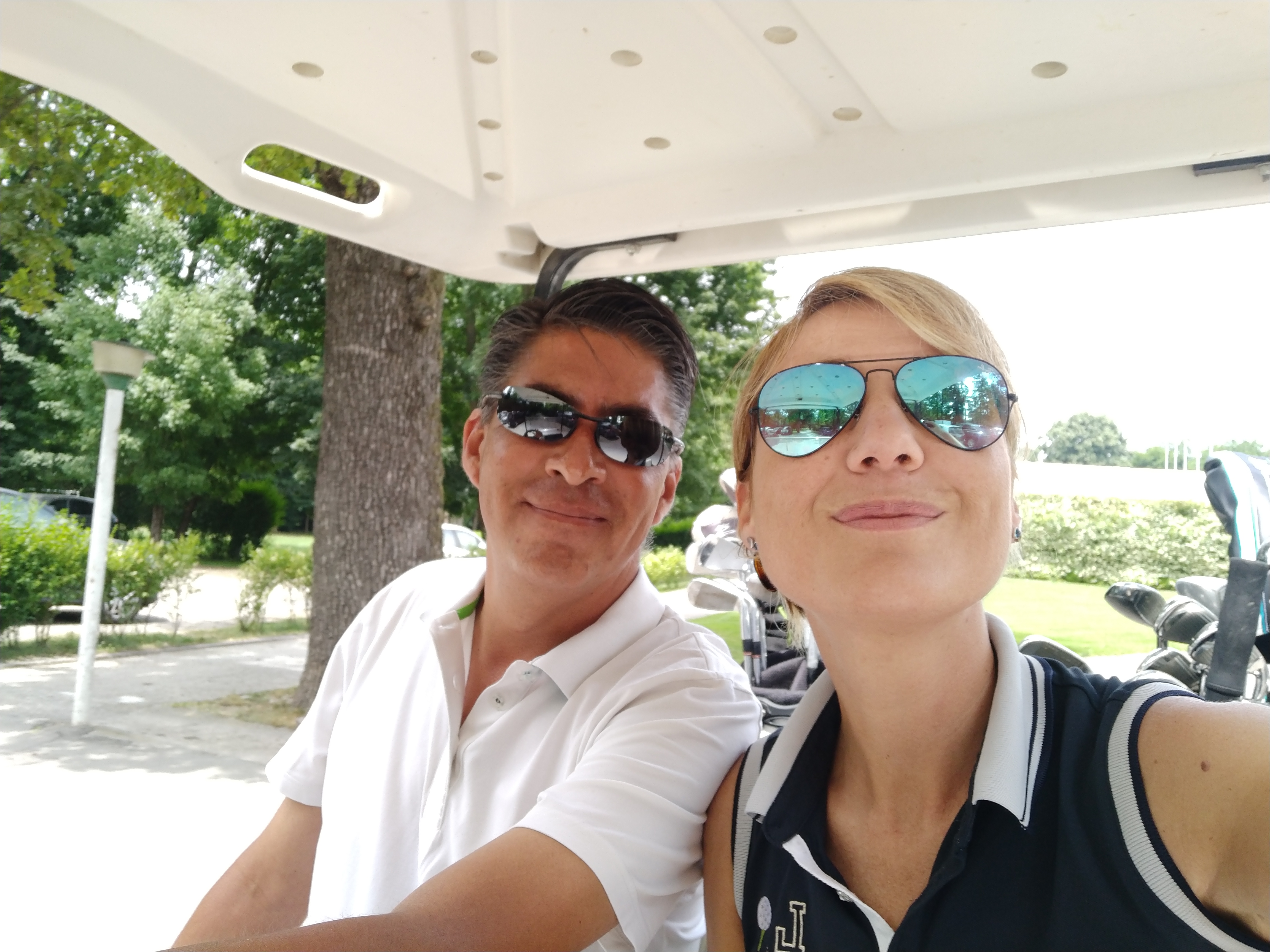 I take my pitching wedge and I start to hit 2 balls I think: "if I hit only this ball I can do everything" . My PRO comes to suggest me 2 things: relax and don't swing, with the first advice I have some problems... he comes to me and takes my Golf Club off my hand, he smiles and says: " we are here to have fun, try to relax yourself".

I believe him and decide to do it. I try full of excitment for my new tool. My PRO diasassemble and reassemble it saying like this it's perfect. I trust him, I place the ball and try to remember the thousand of things he told me and I hit. I don't remeber how long  it went but I see the smile of my PRO and that's it!!! Now I'm ready to start to play.

The distance between his departure and mine is really embarrassing. I have time for a cigarette between his white tee marker and my red one, but I believe that the exstraordinary of this game is that people from different game quality can play together and have fun.
My first drive is a tragedy but he allows me to repeat it and as usually happen when I do what he suggests me, a miracle arrives. My second drive breaks the fairway in two and I feel happy as a child. Now I can really enjoy myself!!!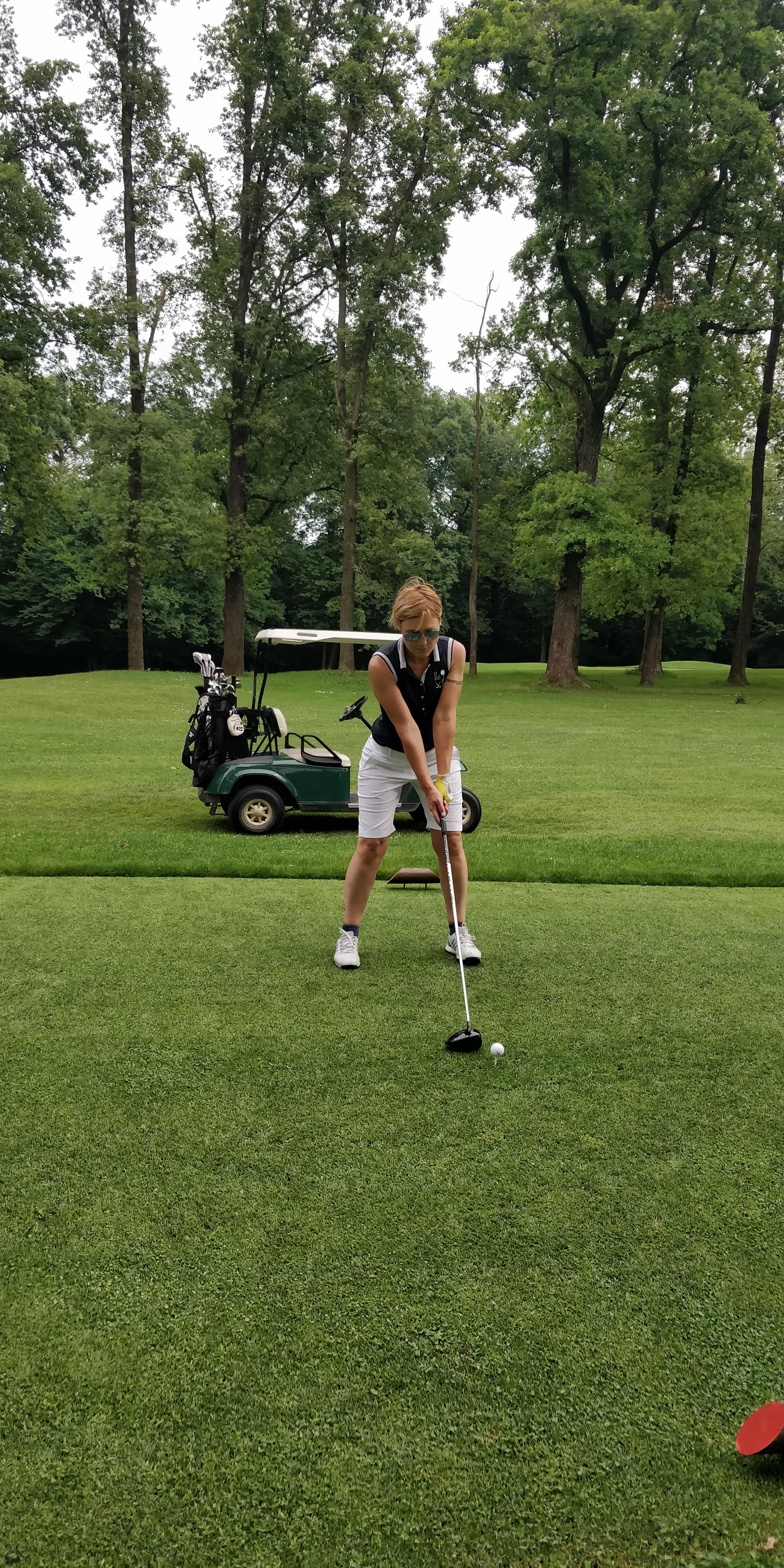 The day passes hole after hole in a great atmosphere, we talk about everything and we decide as well to organize together some Clinics in the most beautifull Golf Courses around Europe, if you put together a Golf PRO and a travel Agent that's the minimun can happen.
We laugh, we search balls and we look at the squirrels. . 
 
We reach the famos plate, at this point we break the ice and we feel confident like we know each other since ages. We are so different but with a great passion in common, we decide to lie near the plate to take a selfie in memory of the time we spend together at this Course.




He allows me to hit with a Golf Club number 5 from the rough, I hope that the ball got so bad in order to avoid the shot.

He is always right and I'm amazed how good I play just following his advice.

That's the teaching and maybe it's like this in every matter, but I got it just now, in this Golf Course, listening that man that forced me to do things I could never think able to do.

The best way to describe the Golf teaching is the faith, an act of faith that a student asks to the own abilities and to the Golf PRO, if you trust without judge happen that ...succeed to hit the drive between two trees at the distance of 180 meters, send the ball at 20 cm of the flag and hit with a Golf Club number 7 …. All great things that happened to me ...with my hcp…
At the end of this day I can say that I met a great Golf PRO: someone to learn from, a great PRO but at the end the most important thing is the friendship was born between us, I'm sure it will long for long time.

Thanks to Gonzalo Caponi 

Golf PRO, friend and partner

If you want to contact him you can call at  +393356603648

If you want to partecipate at the Golf Clinic with him here you can find all the details:
https://www.golftourexperience.com/it/pacchetto/clinic-tutte-le-tasche
for information you can write to: info@golftourexperience.com