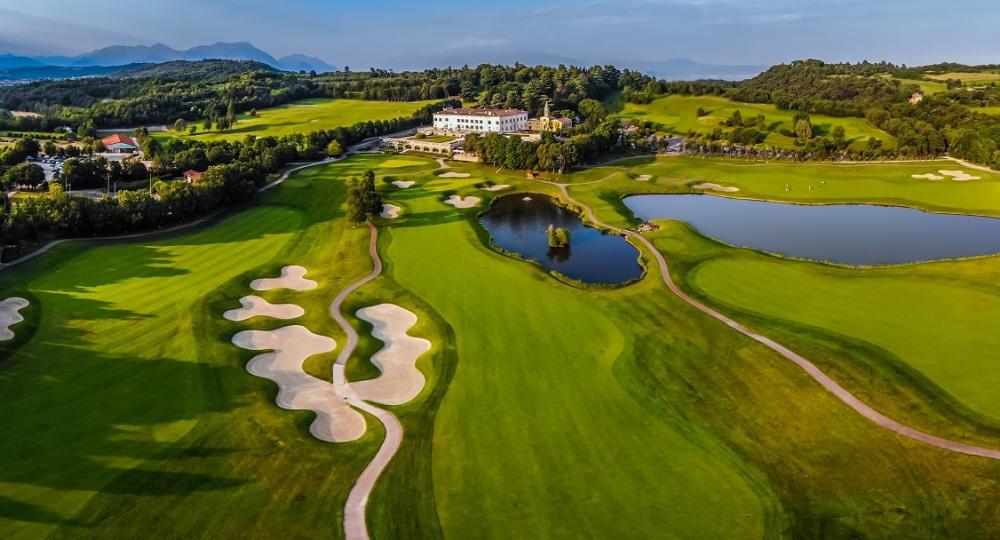 Arzaga Golf Club by Paolo Ducoli
There are few golf courses with a club house from which you can see the departures of holes 1 and 10 and the greens of 9 and 18.
The Arzaga Golf Club is one of these.
This field offers an experience since the arrival. On spring days, in the morning and with the sun behind you, the arrival in the parking lot already puts you at peace with the world. You can't help but be distracted by the wide fairway of hole 18 separated by a lake from that of 10, so you will have to concentrate to put the car in the large parking lot, unless you want to continue to the caddy master, always ready to welcome you to unload and arrange your Golf bags. The club house, an extension of the 4-star hotel, is perfectly organized. Reception on the right, bar and restaurant on the left, pro-shop and changing rooms in front of you. You will immediately find yourself at ease walking on a very soft and very clean carpet. After having taken a first look at the field, however, you will immediately want to play and then, as soon as you have taken the coffee and dressed as a golfer, you will go into practice to loosen your muscles. Muscles that will already be hot enough for the climb to reach the driving range. Perfect practice course, long and downhill, with a landing green at 100, 130, 160 meters and a specific green for approaches and practice from the bunker with three flags. After the tee shot at 1 (whether it's the low path, Jack Nicklaus II, or the Gary Player) forget everything, enjoy the softness of the fairway and the colors that surround you. At the end of the 18 holes, if the season allows it, pause on the terrace to drink a beer or whatever you like, the sunset on the field is simply spectacular and will be the answer to many questions about why you insist on playing golf despite the frustration , fatigue, the desire to throw the Golf bag in the pond. Not counting the shots you have taken, if you have done some shanks, if the three putt have haunted you, in the worst case, about your game, look at the fairways from the terrace of Palazzo Arzaga with a drink in hand and in good company you will make you feel good. If then the shots were less than 90, what to add?